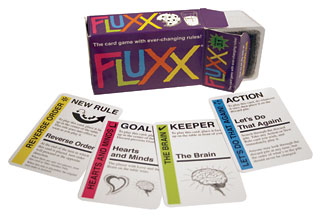 Fluxx is a card game, played with a special deck of cards. It is different from most other card games, in that the rules and the conditions for winning keep changing throughout the game, because of cards played by the players.

The game starts out with one basic rule, which says that each player draws one card, and plays one card during their turn. (Draw 1, Play 1) But that will change as soon as someone plays to change the number of cards you draw and play. There are four different types of cards you can play: NEW RULES, that change the rules of the game, KEEPERS, that you collect on the table in front of you, GOALS, that determine which two Keepers are needed to win, and ACTIONS, which are fun events that shake up the action of the game.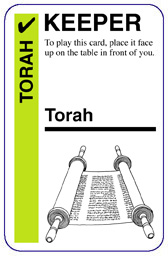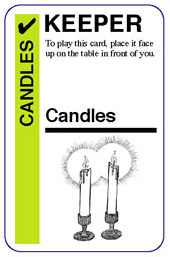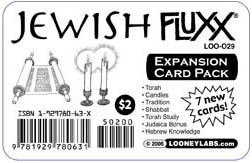 Jewish Fluxx is a booster pack of 7 new cards to add to your Fluxx deck.
You get two new Keepers: Torah and Candles, and three new Goals: Tradition, Shabbat, Torah Study. Two other special cards give players a bonus for showing or knowing their Jewish heritage:
New Rule: Judaica Bonus
If you are wearing a something with a Magen David or a Chai, you may play 1 extra card during your turn.
Action: Hebrew Knowledge
Set your hand aside and draw 3 cards. If you can say a Hebrew word AND spell it in Hebrew characters, play all 3 cards. If you can say a Hebrew word but can't spell it, play 2 cards. If you can't think of a Hebrew word no one has used yet, say "Shalom" and play 1 card. Discard the remainder.