Looney Labs Introduces Family Fluxx
The Holiday Gift that Brings the Whole Family Together!
FOR IMMEDIATE RELEASE
PDF version of this document (60k)
Contact: Looney Labs at (301) 441-1019
or email us: media-support [at] looneylabs.com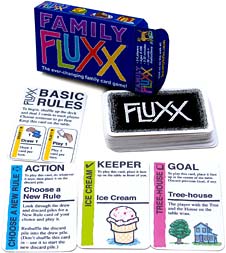 College Park, MD – The holiday season is close at hand, and Looney Labs has just released the ideal holiday gift for the whole family! Family Fluxx is a new version of the award-winning card game, Fluxx.
Family Fluxx is a card game of ever-changing rules. Players control how many cards are drawn, played and discarded, and what conditions must be met to win. The game evolves into something different every time.
Family Fluxx games play fast, ideal for young children and for quick family games at holiday time. Full color art makes the game visually exciting to young and old. Special cards encourage family play: child, parent and grandparent bonuses make it fun for every generation, and cards like Ice Cream and Recess bring out the kid in everyone!
As a card game, it requires no batteries, does not break when dropped, and can be easily taken along in a pocket or backpack. At $8, it makes an affordable gift or stocking stuffer—a welcome alternative to this season's pricey tech games.
Looney Labs designs, produces, and markets award winning specialty card and board games, all perfect for holiday giving. Founded in 1996 by Andy and Kristin Looney, and located in College Park, MD, this team has become well known and well loved in the gaming industry for their innovation and unique approach, developing games that are not just creative, but encourage players to think creatively.
For more info about Looney Labs and its games, visit http://www.looneylabs.com/
For more information about Family Fluxx, visit http://www.wunderland.com/LooneyLabs/FamilyFluxx/
To download high-resolution visuals, visit http://www.looneylabs.com/Resources/
To arrange an interview with Andrew Looney, designer of Fluxx, or to obtain a review copy, please contact Looney Labs at (301) 441-1019, or Stephanie Clarkson in Toronto at (416) 725-8651.